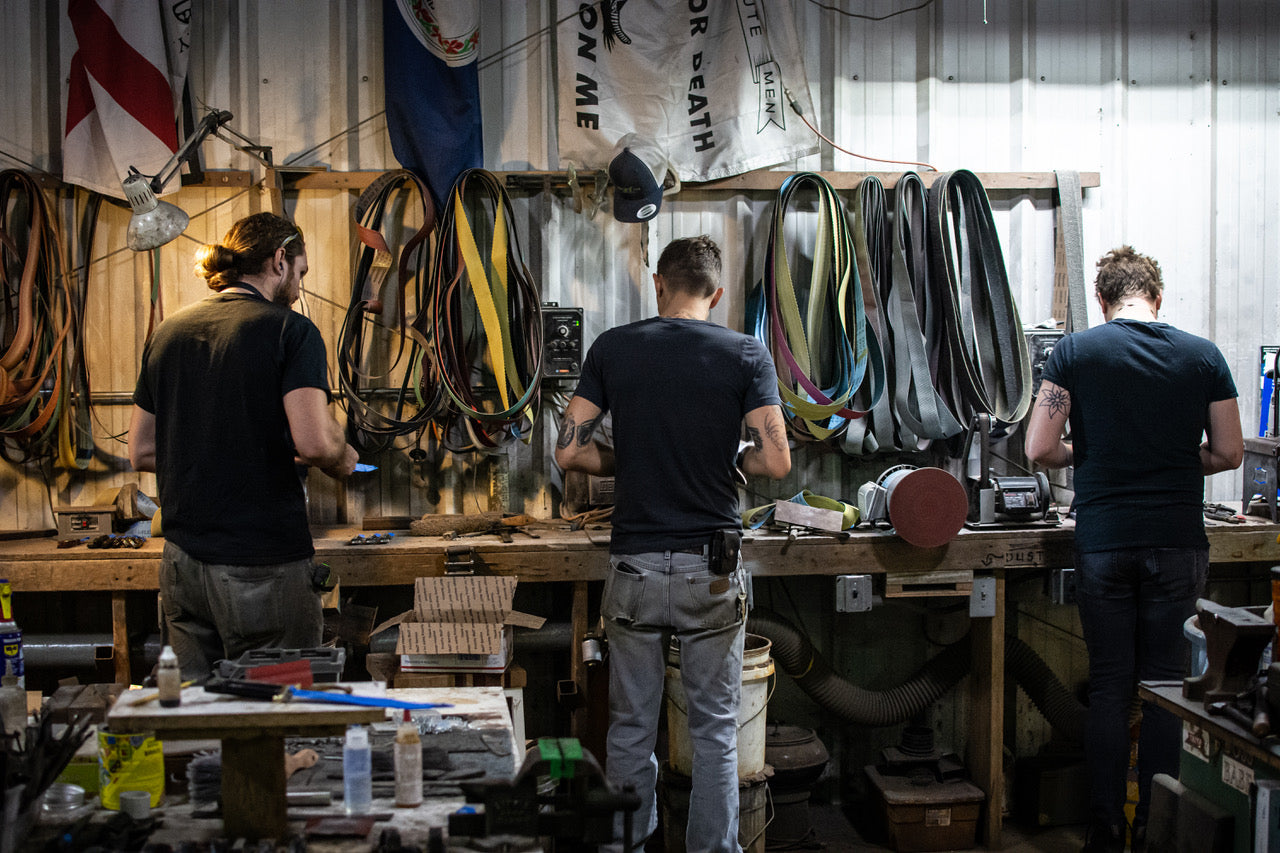 Join or Die Knives is four businesses in one. I started selling my handmade knives in 2014 and a few years later started offering basic knife making classes. As the shop grew I founded the Hardway Workshop which is a membership community knife shop and now I have added small scale batch production. These batches range from 10 to 250 knives and are typically sold wholesale to dealers. They are my designs and the blades are made with basically the same process of a custom knife, just with a few differences in the process. Actually, in making batches of knives, process is everything. 
Each custom knife that I make has challenges that are unique to that design. Even when working with a previously used pattern the blades need small changes in the process depending on the customer requests and materials used. With a production process, I try to work out the kinks in the first few knives and then hopefully hit the ground running with the rest. One good thing about larger batches is that untrained helpers can be taught many of the time consuming steps easily. With good oversight, an apprentice can easily accomplish the heat treating steps, drilling and basic shaping as well as hand sanding and final clean up. An experienced helper can use a jig to grind the blades, glue up and shape handles. It is difficult to learn how to make a professional quality knife and takes years, but there are many aspects that are easy skills to learn.
Quality control is the most important part of batch production and a willingness to sacrifice some blades that don't meet the standards is critical. Every time I set up a knife for production I have extra blades cut. There will probably be a few at first that are sacrificed to the learning curve of that particular project and several more that meet unhappy accidents along the way. I will never be able to make knives with the efficiency of a computer controlled factory but we are offering something much more personal. Our knives are all made by a real human. I do have the blanks cut out by a CNC laser or water jet. Using these services allows me to bring the price down and have more consistent shapes. The more important parts of the process like heat treating and grinding to shape are all done by hand.
Materials used like the blade alloy and handle material have different considerations in batch production. Consistency is the most desirable quality by far. I select steel not only on blade performance but also, ease of heat treat, grinding and finishing. If a steel warps too much then it is not worth saving money on. Handle material needs to be not only dimensionally consistent and stable but also consistent in color and texture. Most production knives feature man made materials like micarta or G-10 for this reason. I have made many production knives using wood but I have to be careful to choose a species without too much variation. Woods like bourbon barrel oak or desert ironwood tend to deliver consistent results.
I hope to continue to expand this part of Join or Die Knives because it allows me to have a team to work with. I would much prefer to have people who are interested in the creative process of knife making than work alone and it takes larger orders to keep people busy. I have many goals in this business but one of the most important is to provide good jobs for people who want to get dirty and make something with their hands that they can be proud of.