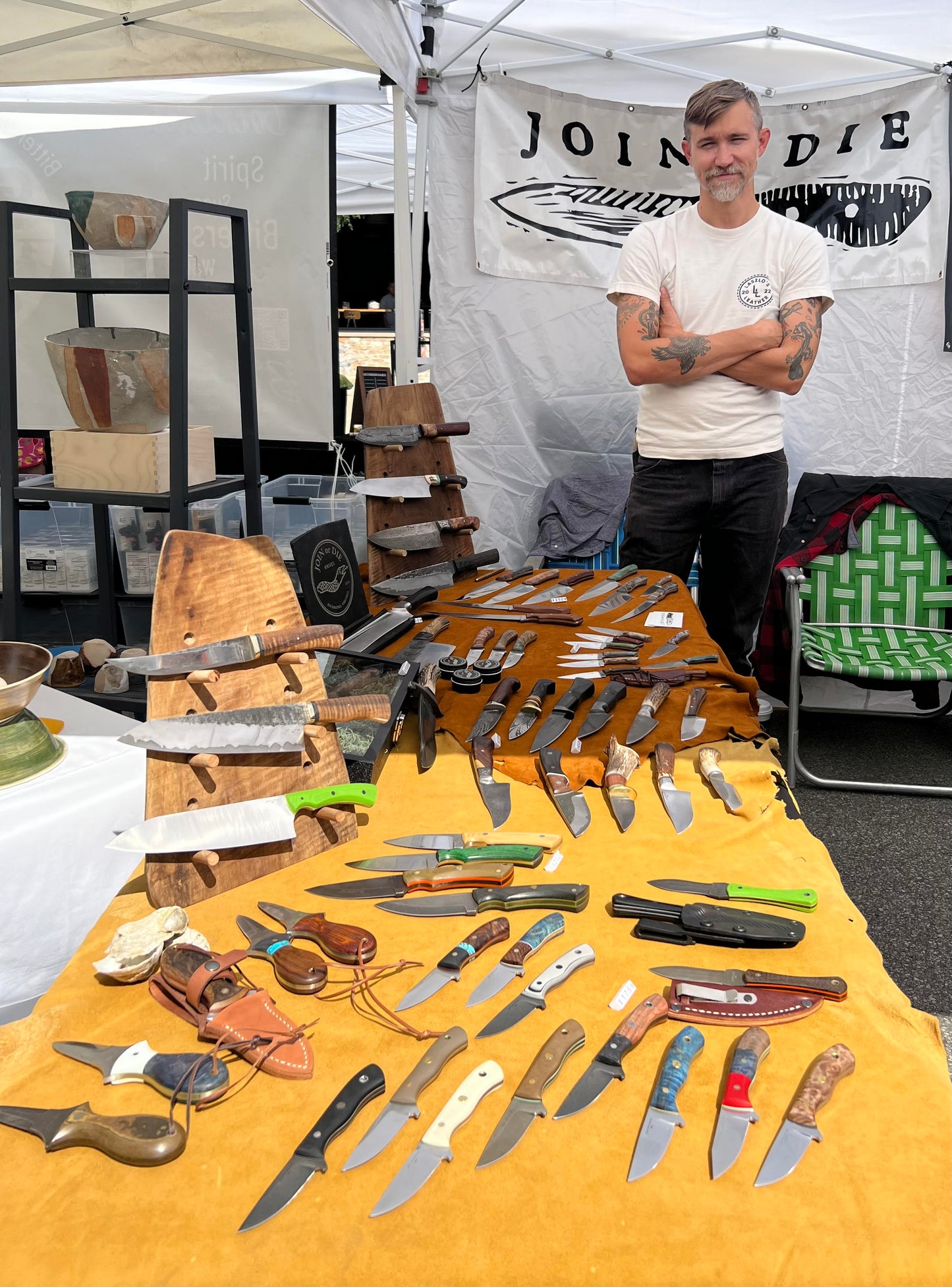 As a former Chicago resident, the Renegade Craft event in the Wicker Park neighborhood of Chicago has been a chance to visit my former home. My first Renegade was 8 years ago and I have gone back every year except during the shutdown. It has been a great chance to show my knives in a context where they are less common but in a curated setting where everyone there is bringing quality. The most common question is "Do you make these?" - of course I do! I have been thinking about why I get that question so much.
One reason is that some of the vendors are selling handmade goods that they do not make. They are typically shoe and garment companies that sell handmade items from South America or Africa with a representative at the fair with sample products. It's actually cool that talented craftsmen from remote places can get representation in big markets like Chicago but it does explain why some people may think I am doing something similar. I also think that knives are generally considered to be something that are made in large factories by machines so it is just surprising to see something like that at an artisan market. In any case, it is a great opportunity to educate people on what we do and why they need a handmade knife!
This year the first day of the fair was a perfect early September Day but the second day was a total wash out. Heavy rain started the day with high winds following. We hung in there until the wind flipped our tent over and soaked all the knives. We packed up as quickly as possible and headed back to the apartment where we spent the rest of the day laying out and drying everything. Obviously this was a bummer, both in the stress of the weather calamity and the loss of a significant portion of sales that we were counting on for the second day. I still count this as a good trip though.
This year I was able to bring my friend Billy Nelson with his brand Eleven Knives for his first Chicago event and Zach Bannister came along as he does every year for help and support. Nothing brings people together like sharing hardship and in the end we got home safely and learned quite a bit. Doing sales events and trade shows will always be an important way to spread brand awareness and get face time with customers. I do not regard them as money making opportunities but marketing opportunities. If I do well with sales that is great but the purpose is really to reach out to new people. We will be back Chicago!