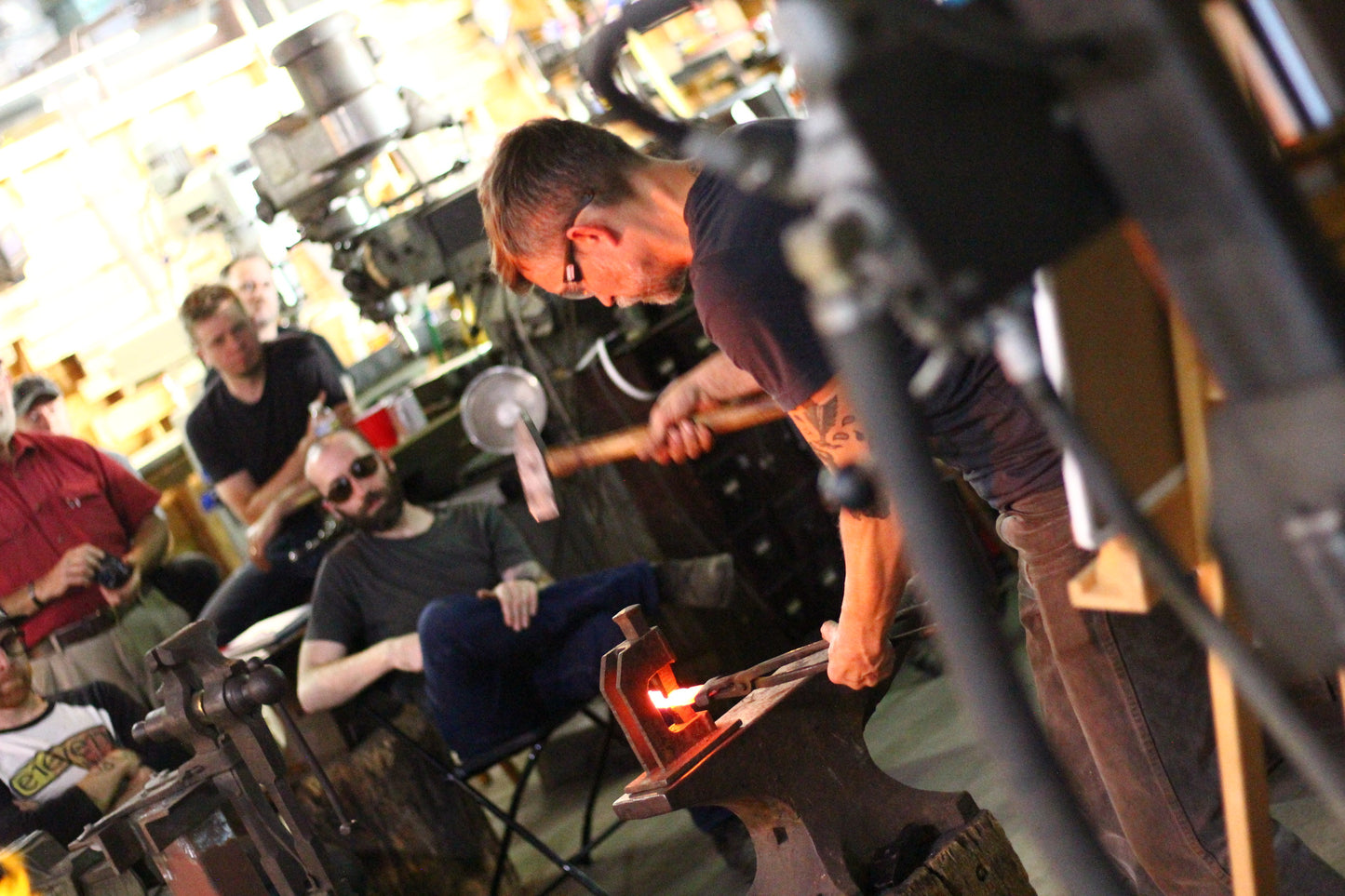 It has been a long time since bladesmiths in Virginia have gotten together to share knowledge and fellowship. The purpose of the Hardway Hammer-In is just that - to bring folk together. The demos are short so that we can pack as much information into the day as possible but we purposefully build in some down time to make sure everyone can shoot the bull and gossip. These events are really life giving to people who spend most of their time with their heads down in a grinder or forge.
Although we have had a few events in the past, they have all been open house shop parties. We have never had a proper hammer-in until now. Greg Campbell who owns Cur Custom Blades and is my partner with the Hardway Workshop and I decided to put on a get together in the blacksmith hammer-in style. We invited some of our favorite smiths to demonstrate techniques and share their process. We were very fortunate to have some great talent at the event including Carson Sams, Ben Pittman, Steve Hotz, Billy Nelson, Dale Winburn, Ben Abbot, Greg Campell and myself. 
In keeping with the hammer-in tradition, we made sure everyone had plenty to eat and drink and had an Iron in the Hat raffle. This is where we put out all kinds of steel, handle material and anything else that could be useful to others but we need to get rid of and put it up for raffle. Each item has a cup next to it and people buy tickets and enter them in to the items they want. It is much better than a typical raffle where all the tickets go into a large basket and tickets are drawn out of the whole pot as each item comes up. We had some very valuable handle materials and blade steel as well as a custom blade by Greg Campbell so there were some very happy rafflers by the end.
Carson Sams kicked off the day by giving an introduction to the blacksmith side of bladesmithing. Many people get into forging knives without taking the time to practice basic forging techniques so it was awesome to have the basics covered. He also showed and upset choil technique for knife handles that he features on his knives. Next was Ben Pittman with his presentation on the American Bladesmith Society performance test for Journeyman smith. This year, Ben passed for his Journeyman rating which is a big accomplishment. He shared about the ABS and how to properly make a 10" blade that will hold up to the rigorous testing requirements which include chopping through a 2x4 twice, slicing through a 1" hanging rope and keep a shave sharp edge, then bend 90 degrees without breaking. Ben took everyone outside and with the help of the Black Horse Forge crew, took three blades through the test including his own damascus blade.
After lunch, Dale Winburn demonstrated his techniques for laying out and ginding fullers and hollow grinds in swords and daggers. He is known for his precision work on swords so having Dale teach on grinding was a real treat. Ben Abbott followed up with an advanced forged sword guard with Langets. This involves turning a single chunk of steel into an ornate multi-piece guard. A very difficult and esoteric technique, Ben showed his skill by bringing some serious blacksmithing and bladesmithing knowledge. Some people may think he is just a talking head on Forged in Fire but Ben showed that he is a heavy hitter in the bladesmithing world.
I finished up the day with a forged integral bolster knife demo. Breakout sessions included Steve Hotz with Black Horse Forge explaining his design process, Greg Campbell of Cur Custom Blades explaining the finer points of his fiber laser engraver and Billy Nelson of Eleven Knives taking us through the process of designing and executing a build using CNC plasma and router technology. Another highlight was the bellows coal forge that Keith Hicks brought out. That is always an interesting and challenging alternative to a propane forge.